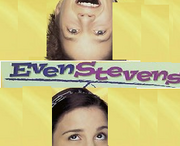 Welcome to the Even Stevens Wiki
Edit
Welcome to Stevenspedia, the source for anything you need to know about the hit 2000s TV show, Even Stevens.
What's Even Stevens?
Edit
Steve and Eileen Stevens have raised three crazy kids- the perfectly sporty Donny, the teacher's pet, straight A student Ren, and the wild and devious Louis. This show followed the lives of the family, especially with Louis' friends Tawny and Twitty and Ren's friend Ruby. It stopped airing after its season finale 'The Even Stevens Movie' in 2003.
The Wombat Report
Edit
Shia LaBeouf is starring in the third Transformers movie.
Tom Virtue recently starred in Victorious as Hayley's father, also the owner of a karaoke club.
Ad blocker interference detected!
Wikia is a free-to-use site that makes money from advertising. We have a modified experience for viewers using ad blockers

Wikia is not accessible if you've made further modifications. Remove the custom ad blocker rule(s) and the page will load as expected.