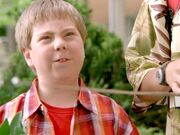 Bernard "Beans" Aranguren is an annoying/pesky neighbor of the Stevens family. Beans often makes himself at home in the Stevens residence without their approval. Beans has a strong obsession with bacon which is frequently mentioned throughout the series. Beans is in Elementary school, attending Cook Elementary, and often barges in on Louis' life. Due to his frequent intrusions, Louis tends to disregard and demand Beans to leave. 
Description/Characteristics
Edit
Beans has many strange hobbies/skills, including:
Expertice in Dirt Moving
Liking Bird Plates
Obsession with Bacon
Skilled Bassist 

In the episode: Band on the Roof, Beans got a bird cage stuck on his head but still manages to play the bass in the roof concert. 
Ad blocker interference detected!
Wikia is a free-to-use site that makes money from advertising. We have a modified experience for viewers using ad blockers

Wikia is not accessible if you've made further modifications. Remove the custom ad blocker rule(s) and the page will load as expected.